If you are a stranger to the world of inflatable spas, there are few things you should know before purchasing your first tub. The purpose of this piece is to give you some brief insights into the inflatable spa. It contains the right information to help you make an informed decision.
Before we delve in, let's clear some air about an inflatable spa. You might have come across the word hydrotherapy spa, inflatable spa, inflatable hut tubes, pool spa, portable spa, blow-up tubs, etc. They are all different names for the same thing. don't get confused.
1. Choose a Reputable Brand
The manufacturer of your hot tub does matter. There are hundreds of brands available on the market, all claiming to get it right. If you are buying for the first time, look for a company with proven track records and a brand trusted by many.
Don't be deceived by a brand that comes at a peanut price and conveys no brand to your face. They will cause you a lot of headaches and regrets.
Since you've not tried any before, the only guarantee you have is to choose from a brand with a reputation, check out customers' reviews and look for social proof.
Whilst there is indubitably some great budget spa on the market, few producers have started pushing out inferior models, in an attempt to get a cut from the flourishing spa market.
Check out eCommerce stores like Amazon and Walmart, see how different products are performing and what users are saying about them. You will surely find a great spa that will serve you best.
3. Consider the Running Cost
It's a no-brainer, the running cost of an inflatable spa will sooner or later outgrow the purchase cost. Except it doesn't last at all. When talking about running costs, three things are involved. Water, energy, and chemicals.
Energy Cost:
The inflatable spa runs on energy. The energy needed to heat it also contributes significantly to the running cost. Why? Depending on the capacity and dimension of your tub, some spas can take up to a day to heat up.
Also, the massage system runs on energy. The more you heat up to your desired temperature after cool down and the more massaging effect you get, and the more you should be concerned about your energy bill.
Think of how to cut this cost, for instance, go for a spa with an insulated inner cabinet that won't lose heat to the surrounding. They will save you from re-heating now and again.
Water Cost:
Filling up an inflatable spa requires a lot of water. No matter how small its size. On average, a standard Inflatable spa holds between 150 gallons and 350 gallons of water. This is likely to push up your water bill. You need to carefully consider how much a spa costs you to fill it up.
More so, you'll need to empty your spa and re-fill occasionally, which means additional cost. If there any way you can reduce cost without altering your spa experience and water safety, you surely need to do so.
Chemical Cost:
Taking care of your spa is another monetary commitment that comes with owning an inflatable spa. You have to get chemicals for treating the water in your tubs, to ensure it's safe and healthy for users.
Although not as huge as water and energy costs, it's a small outlay that can't be overlooked. You can't afford to leave your spa untreated, it's dangerous for you the owner, and the users of the spa.
The cost of chemicals shouldn't weigh you down, but if you are still interested in saving cost on them, one way is to make sure you buy in bulk.
4. Understand Spa Dimension and Capacity
Making your purchase from just reading what's on the box can be an expensive mistake. There's a difference between what's written on the box and what's practicable.
When you see a spa whose box says can accommodate 6 people, this means 6 adults packed together side-to-side. Not the capacity that gives the comfort and relaxation you want in your ideal spa.
Going by the six we mentioned above, such a spa is likely to accommodate 3 comfortably seated adults with their legs stretched out. That's what you should think of as the real capacity because that what's achievable by most spa owners.
To help make an easy decision, Here's a dimensional glimpse that applies to most round tubs.
2 person inflatable spa: 71 – 75 inches
3-4 person inflatable spa: 75 -77 inches
4-6 person inflatable spa: 77-85 inches
Other shaped tubes may vary slightly in internal due to their shape. The above should guide your decision on the capacity to a reasonable extent.
5. Check the Massage System
The bubble jet massage system that comes with a spa is another area that needs your attention. Also called air jet massage system, it's one major reason why people get a portable spa in the first place. When on, this system blows hot air through the jet nozzles, producing a massaging effect throughout the body.
Some great spa massage system is so powerful such that they give deep massaging up to the muscles. So you need to look into how strong the massage system of a spa is if you are ready to pay for it.
There are some luxurious spas with an adjustable hydrotherapy massage system. They allow you to concentrate the message on any part of your body. As they differ from most traditional tubs they also differ in price.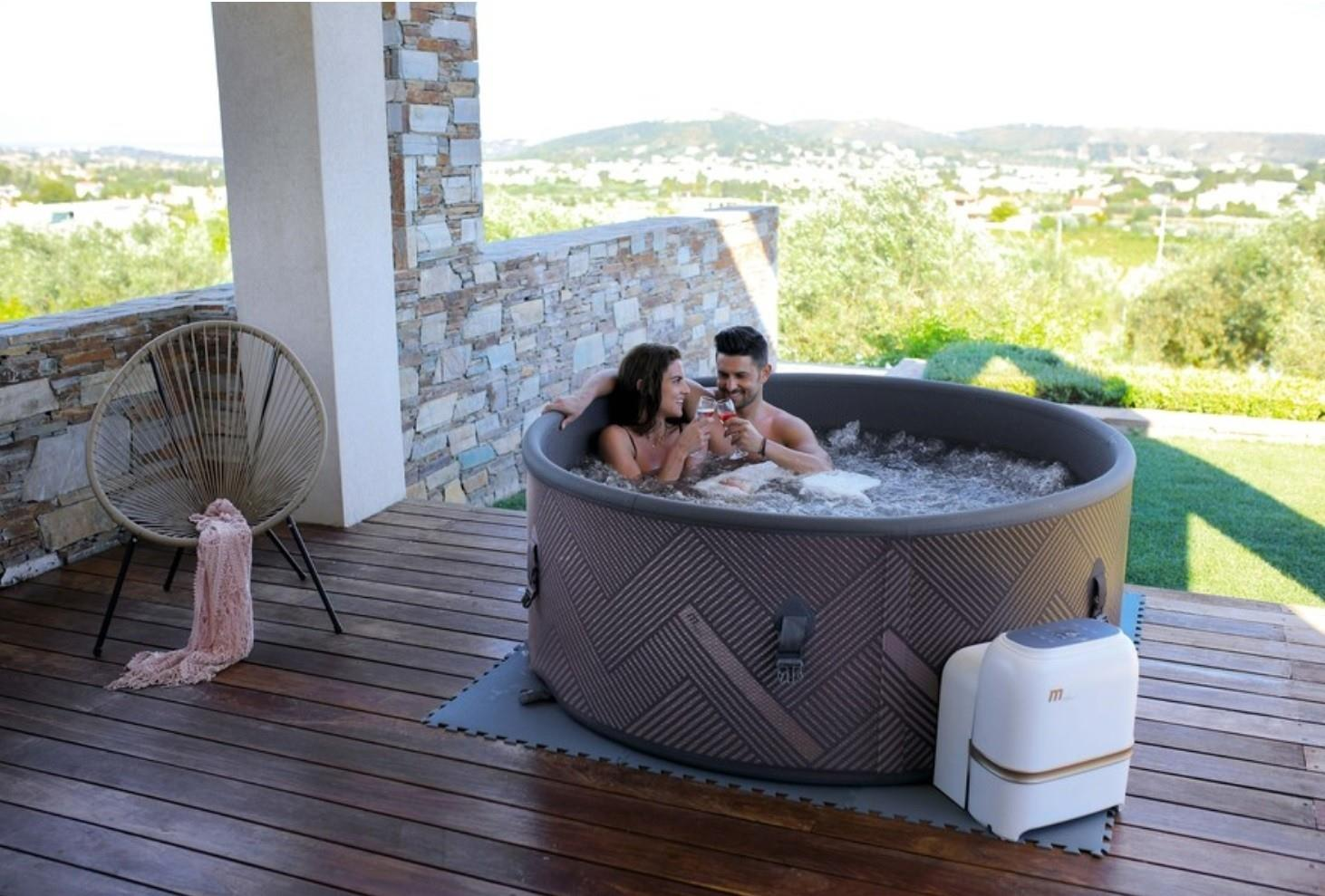 6. Electricity and Safety Concern
The majority of inflatable spas you find on the market are called plug-and-play spas, and they run between 110 – 120 V. Meaning, they do not require any technical work to start using. All you need is to locate a suitable socket somewhere in your vicinity and plug. They start running.
Ensure the socket is a distance away from where your tub is set up. This is very possible because most tubs have a cord that is at least 20 feet long. This should be enough to avoid running the risk of electrocution.
Don't be tempted to use extension cables. If your socket is far from where your spa is set up. Get a technician to get one in an ideal location to avoid any form of electrical disaster.